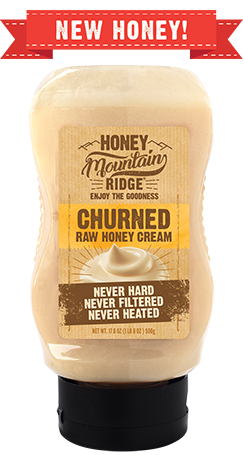 Our Mountain Ridge Churned Raw Honey Cream is NEVER hard, NEVER filtered, and NEVER heated!
Naturally Healthy Churned Raw Honey Cream
Our first Mountain Ridge Honey in a convenient, upside-down squeeze bottle! Unlike traditional honey, this honey will not harden or crystallize, even in cold-weather climates. This honey is perfect for hands of all ages. Squeeze this honey for easy spreading on toast, pancakes, waffles, and use anywhere you would traditional honey – even tea, or coffee!